Patty Schnyder (born 14 December 1978 in Basel) is a retired Swiss professional tennis player She played on the tour from 1993 to 2011 and is a former World No. 7. She defeated several World No. 1 players in her career, including Martina Hingis, Lindsay Davenport, Serena Williams, Arantxa Sánchez Vicario, Steffi Graf, Jennifer Capriati, Kim Clijsters, Justine Henin, Amélie Mauresmo, Jelena Janković, Ana Ivanović and Caroline Wozniacki.
During her long career, she reached six Grand Slam singles quarterfinals and one Grand Slam singles semifinal. She won 11 singles titles and 5 doubles titles and earned over US$8.4 million in prize money.
* 1 Career
* 2 WTA Tour singles finals (27)
o 2.1 Wins (11)
o 2.2 Runner-ups (16)
* 3 WTA Tour doubles finals
o 3.1 Wins (5)
* 4 ITF singles titles (3)
* 5 See also
* 6 Singles performance timeline
* 7 Citations
* 8 External links
In 1996, Schnyder made her Grand Slam main-draw debut at the French Open. In 1997, she quickly rose up through the rankings, and by August 1998 she had entered the WTA Top 10. However, Schnyder fell out of the Top 10 in April 1999, and spent the next 6 years ranked in the 15–30 range before re-entering the Top 10 in May 2005.
In December 2003, Schnyder married Rainer Hofmann, a German private investigator who has accompanied her on the WTA tour since 1999 and became her full-time tennis coach in early 2003. Hofmann carries a fraud conviction in Germany relating to his business dealings with German national communications firm Deutsche Telekom. Hofmann pled guilty in 2002 to embezzling the equivalent of $400,000 from the firm, and was put on probation for 3 years. In addition to coaching Schnyder, Hofmann has also worked with some other WTA players in a coaching capacity including Anna Chakvetadze and Sania Mirza.
Schnyder has won 11 singles titles, including a victory in Zürich (Tier I Event) over American former No.1 Lindsay Davenport, and 5 doubles titles. Her first title on U.S. soil came in August, 2005, when she won at Cincinnati's Western & Southern Financial Group Women's Open. Schnyder is perhaps best known for defeating 4 top 10 players consecutively, including Serena Williams and then-World No.1 Jennifer Capriati, in 2002 at the Family Circle Cup in Charleston, which is the largest women-only tennis event held in the United States.
Schnyder's best Grand Slam performance came at the 2004 Australian Open, where she reached the semifinal before falling to Kim Clijsters. Later that season, she also reached the semi-finals at the Tier 1 tournaments in Charleston and Zurich – two large WTA events where Schnyder has compiled an excellent record through the years.
2005 was Schnyder's most consistent overall season to date. She reached five tour finals, winning two of them (Gold Coast and Cincinnati, both Tier 3 events). She was runner-up at the Tier I events Rome (to Amélie Mauresmo) and Zurich (to Lindsay Davenport). She also reached the final in Linz (Tier 2), falling to Nadia Petrova. She reached the career high of World Number 7 after the end of season WTA Tour Championships.
2006 proved to be a good season for Schnyder also, staying within the top ten and reaching the finals in Charleston (defeating top seed and defending champion Justine Henin in the semis and also ending Henin's 27 match winning streak on clay, though Schnyder lost to Petrova in the final), and in Stanford (falling to top seed and defending champion Kim Clijsters).
Patty Schnyder at the 2007 Australian Open.
Schnyder had a mediocre year in 2007, where she lost her top 10 ranking. Firstly, she obtained an invite from Hong Kong Tennis Patrons' Association to play 2007 Watsons Water Champions Challenge. And then she reached the fourth round of the Australian Open, where she lost to Anna Chakvetadze 6–4, 6–1 after leading 4–1 in the first set. At the French Open, she managed to reach the fourth round, where she had 2 matchpoints against Maria Sharapova but ended up losing 6–3, 4–6, 7–9. At Wimbledon, she was beaten in the fourth round by No.1 Justine Henin 6–2, 6–2. At the Acura Classic in July, she reached the final, beating former No.1 and compatriot Martina Hingis 6–1, 6–7(4), 6–3 and Russian Elena Dementieva 7–6, 6–0 along the way before losing to Sharapova again in three sets, 2–6, 6–3, 0–6. Schnyder briefly moved up due to this. However at the US Open she lost in the third round to the unseeded Austrian Tamira Paszek in a final set tie break, again wasting leads. After that she played at the Porsche Tennis Grand Prix at Stuttgart, where she fell 0–6 2–6 to Ana Ivanović. She finished her year with a run to the Generali Ladies Linz final, beating Chakvetadze 6–1, 6–0 in a quarterfinal and Marion Bartoli 7–6, 6–3 in a semifinal, before convincingly losing in the final to Hantuchová 4–6, 2–6.
Patty Schnyder
Patty Schnyder
Patty Schnyder
Patty Schnyder
Patty Schnyder
Patty Schnyder
Patty Schnyder
Patty Schnyder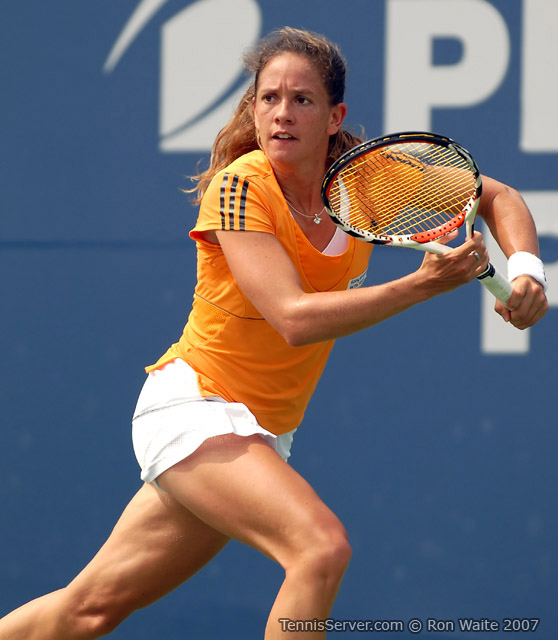 Patty Schnyder
Patty Schnyder
Patty Schnyder
Patty Schnyder
Patty Schnyder