Rosa Louise McCauley Parks (February 4, 1913 – October 24, 2005) was an African-American civil rights activist, whom the U.S. Congress called "the first lady of civil rights", and "the mother of the freedom movement
On December 1, 1955 in Montgomery, Alabama, Parks, age 42, refused to obey bus driver James Blake's order that she give up her seat to make room for a white passenger. While her action was not the first of its kind to impact the civil rights issue (see also Lizzie Jennings in 1854, Irene Morgan in 1946, Sarah Louise Keys in 1955, Claudette Colvin on the same bus system nine months before Parks), Parks' individual action of civil disobedience created further impact by sparking the Montgomery Bus Boycott.
Parks' act of defiance became an important symbol of the modern Civil Rights Movement and Parks became an international icon of resistance to racial segregation. She organized and collaborated with civil rights leaders, including boycott leader Martin Luther King, Jr., helping to launch him to national prominence in the civil rights movement.
At the time of her action, Parks was secretary of the Montgomery chapter of the National Association for the Advancement of Colored People and had recently attended the Highlander Folk School, a Tennessee center for workers' rights and racial equality. Nonetheless, she took her action as a private citizen "tired of giving in". Although widely honored in later years for her action, she suffered for it, losing her job as a seamstress in a local department store. Eventually, she moved to Detroit, Michigan, where she found similar work. From 1965 to 1988 she served as secretary and receptionist to African-American U.S. Representative John Conyers. After retirement from this position, she wrote an autobiography and lived a largely private life in Detroit. In her final years she suffered from dementia, and became involved in a lawsuit filed on her behalf against American hip-hop duo OutKast.
Parks eventually received many honors ranging from the 1979 Spingarn Medal to the Presidential Medal of Freedom, the Congressional Gold Medal and a posthumous statue in the United States Capitol's National Statuary Hall. Her death in 2005 was a major story in the United States' leading newspapers. She was granted the posthumous honor of lying in honor at
1 Early years
2 Civil rights activism
2.1 Events leading up to boycott
2.2 Her refusal to move
2.3 Montgomery Bus Boycott
2.4 Browder v. Gayle
3 Later years
4 Death and funeral
5 Awards and honors
6 See also
7 References
8 Further reading
9 External links
10 Related information
Rosa Parks was born as Rosa Louise McCauley in Tuskegee, Alabama on February 4, 1913, to James McCauley and Leona Edwards, respectively, a carpenter and a teacher, and was of African-American, Cherokee-Creek and Scots-Irish ancestry Parks' great grandfather was a Scottish-Irishman. She was small, even for a child, and she suffered poor health and had chronic tonsillitis. When her parents separated, she moved with her mother to Pine Level, just outside Montgomery, Alabama. There she grew up on a farm with her maternal grandparents, mother, and younger brother Sylvester, and began her lifelong membership in the African Methodist Episcopal Church. She attended rural schoolsuntil the age of eleven, then enrolled at the Industrial School for Girls in Montgomery where she took academic and vocational courses. Parks then went on to a laboratory school set up by the Alabama State Teachers College for Negroes for secondary education but was forced to drop out to care for her grandmother, and later for her mother, after they became ill.
Under Jim Crow laws, black and white people were segregated in virtually every aspect of daily life in the South, including public transportation. Bus and train companies did not provide separate vehicles for the different races but did enforce seating policies that allocated separate sections for blacks and whites. School bus transportation was unavailable in any form for black schoolchildren in the South. Parks recalled going to elementary school in Pine Level, where school buses took white students to their new school and black students had to walk to theirs: "I'd see the bus pass every day... But to me, that was a way of life; we had no choice but to accept what was the custom. The bus was among the first ways I realized there was a black world and a white world
rosa parks
rosa parks
Rosa Parks
Rosa Parks
Rosa Parks
Rosa Parks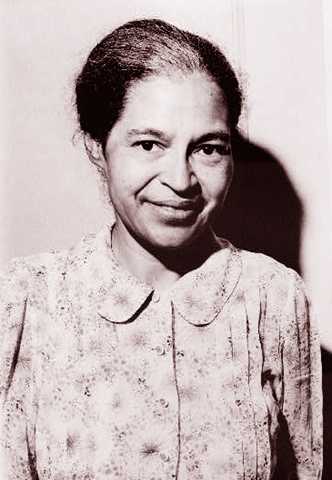 Rosa Parks
Rosa Parks
Rosa Parks
Rosa Parks
Rosa Parks
Rosa Parks
Rosa Parks
Rosa Parks